February is Heart Health Month, so my family and I are enjoying lightened up recipes of traditional classics. Heart disease causes 1 in every 4 deaths in the United States, so I'm constantly tweaking my recipes to make them heart healthy, but without sacrificing flavor. One of our most favorite comfort foods is Tamale Pie. The slightly sweet cornbread baked on top of this spicy bean casserole is a favorite on chilly evenings! To make this tamale pie a bit 'extra' I put out low-fat toppings so my family and friends can customize their tamale pie to their liking.
To lighten up my recipe, I swapped butter in the cornbread recipe with Mazola Corn Oil, reduced the cheese and used vegetarian soy crumbles versus meat.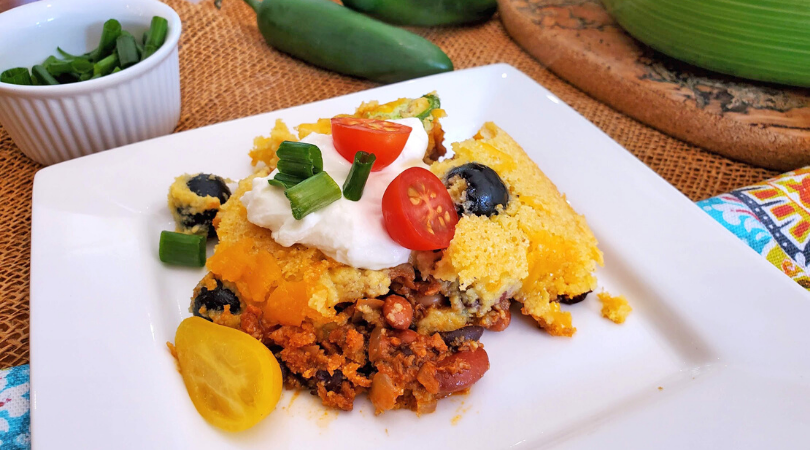 In addition to swapping out the butter in the cornbread, I also used Mazola Corn Oil to saute my onions and bean mixture, and I also used it to grease my casserole dish.
The 2015-2020 Dietary Guidelines for Americans no longer emphasize a "low-fat" diet, but rather choosing quality, "good" fats. This includes replacing saturated fats that are known to contribute to heart disease with unsaturated fats, especially polyunsaturated fats, like those in Mazola Corn Oil. And, according to the USDA, corn oil has more than five times the amount of polyunsaturated fats compared to olive oil. A clinical study showed Mazola Corn Oil reduces cholesterol 2x more than extra virgin olive oil. To learn more about this claim, visit Mazola.com
Heart Healthy Vegetarian Tamale Pie Recipe
You Will Need:
2 tablespoons of Mazola Corn Oil
1 12 oz bag of frozen soy crumbles or 12 oz bag of frozen chorizo crumbles.
1 tablespoon chili powder (if using regular soy crumbles only)
1 16 oz box of cornbread mix
1 egg (or per cornbread mix instructions)
1 cup of water (or per cornbread mix instructions)
1 tablespoon adobo sauce
1 15 oz can of pinto beans, drained and washed
1 15 oz can of black beans, drained and washed
1 15 oz can of kidney beans, drained and washed
1 onion, diced
Optional casserole toppings on the cornbread to bake in: 1 jalapeno sliced, 1 can of black olives, 1/4 cup of shredded cheddar cheese
Optional casserole topping to serve with the hot Tamale Pie: diced cilantro, green onions, sliced cherry tomatoes, low-fat sour cream.
How to Prepare:
(Prep time: 15 minutes Bake time: 24 minutes – Serves 6 generously)
Cornbread preparation: Using a store bought cornbread mixture, use Mazola Corn Oil as the oil or butter replacement. Stir in egg and required amount of water per box instructions. Set batter aside.
Casserole Preparation: Grease casserole dish with 1 tablespoon of Mazola Corn Oil and set aside.
Preheat oven to 375 degrees.
Add 2 tablespoons of Mazola Corn Oil to a large saute pan and heat up. Add onions and cook until softened.
Stir in frozen soy crumbles and chili powder. If using frozen chorizo soy crumbles, there is no need to add additional chili powder.
Saute for 3 minutes and then add beans. Mixture should have a little liquid in the bottom of the saute pan. If it's too dry, add 1/2 up of water and saute for 4 more minutes.
Add bean and soy crumble mixture to the greased casserole dish. Pat down to make the layer firm.
Pour batter evenly over the bean mixture and let it roll out to the sides. Use a spoon to spread to any areas that are not covered.
Optional: Place sliced jalapenos and whole olives on top.
Bake for 18 minutes. Pull out of oven, sprinkle lightly with 1/4 cup of cheddar cheese and put back in the oven for another 4 minutes.
Tamale Pie can be served hot out of the oven. Place bowls of sliced cherry tomatoes, salsas, green onions, low-fat sour cream, cilantro, etc. near the casserole dish and allow your family and friends to top off their tamale pie with fun toppings.