This shop has been compensated by Collective Bias, Inc. and its advertiser. All opinions are mine alone. #TeaProudly #CollectiveBias
The warmer weather is finally upon us, and I can't wait to get outside and start entertaining! To kick off Memorial Day weekend, I will be brewing batches of iced tea to enjoy outside in the sun.  As we honor those who have served our great country, there's something so traditional about iced tea, as it's the perfect refreshing, timeless choice for holiday BBQs, or just to enjoy while cooling off in the shade.
I love Bigelow Tea as I've seen their dedication to tea first hand. Bigelow Tea grows their wonderful tea around the world, but also owns the Charleston Tea Plantation in South Carolina. It was at this small town farm where we were fortunate enough to take a tour through the tea fields while visiting last summer. We learned about tea leaves, growth, processing, and I never knew that green tea and black tea are actually the SAME leaves from the Camellia sinensis tea bush. The difference between the two is simply how they are finished, or oxidized after processing.
Tea is serious business to the Bigelow Tea company and has been an American family-owned company for three generations. Seeing the dedication to their product and processing on one of their farms, made me love their product even more. To me, the Bigelow Tea name means quality, and I know I'll have the same great delicious tea with every purchase of bagged teas.
A fun way to serve delicious Bigelow Tea is to brew it in advance to let the fragrant flavors steep, and also make creative ice cubes for an 'Ice Cube' bar, so guests can customize their tea beverages. I like to choose a combination of herbal, green and black Bigelow Teas. Use your mouse on the image below to see my selections!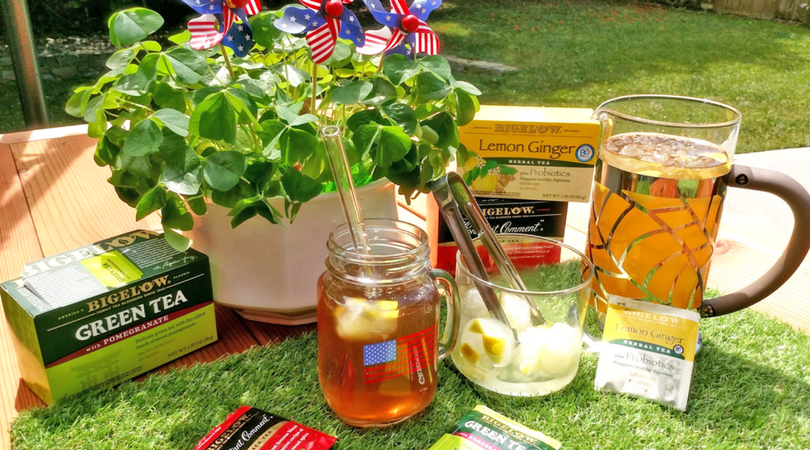 Make an Ice Cube Bar for Tea
To prepare the tea, be sure to start with fresh cold water and bring to a rolling boil. Pour water over tea bag, steep for at least an hour.
A good rule of thumb is to use one tea bag per 8-10 oz of water when brewing tea for iced tea drinks. Remove tea bags and allow tea to cool down. Store brewed tea in the refrigerator if making a day in advance.
When making ice cubes for a gathering, try to match create cubes that will complement the tea versus compete with the tea's natural flavor.
Pairing Ideas:
Bigelow Tea Lemon Ginger Herbal Tea paired with lemon chunk cubes
Bigelow Constant Comment with coconut milk cubes
Bigelow Green Tea with Pomegranate with lemon chunk cubes or blueberry cubes
I use a mini-muffin tin to create my cubes, as they come out pretty and they are nice and large, yet still fit in a glass!
Lemon Cubes – Wash lemons and cut into medium to large chunks. Place inside muffin tins and add water to each well until almost to the top. Freeze for at least 2 hours until solid.
Coconut Cubes – Shake can of coconut milk well so the fat is evening distributed into the milk. Open can and pour into each muffin tin. Freeze for at least 2 hours until solid.
Set brewed Bigelow tea in a pitcher out on a table. I like to use old-fashioned jelly jars as glasses, as they just add to the traditional American decor.  Allow guests select their own cube cubes to put in their glass.  Bring out small batches of different ice cubes for guests. Smaller batches are easier to restock – if you have too many cubes out that are unused, they will just melt!
I love the Bigelow Lemon Ginger Tea as it's refreshing and perfect for a warm day. The lemon cubes add a nice scent while drinking, and of course, keep the tea chilled! For those who love traditional black tea, the Constant Comment by Bigelow has a warm spicy flavor and pairs well with the creamy coconut cubes. It's a little burst of tropical goodness in a rich tasting tea!
Custom ice cubes are a fun way for both kids and adults to enjoy Bigelow iced tea! What creative ice cube combos would you make? 

I found a great selection of Bigelow Teas at my local Walmart.